All Articles:
Dangerous Golf

In a very real way, the game industry wiped the slate clean in 2016.
After nearly a decade of development difficulties, Square Enix unleashed Final Fantasy XV on the world. Fumito Ueda and Sony Japan Studio overcame similar troubles to finally release The Last Guardian. Id Software shook off the past and was reborn after the launch of the fourth game in the Doom franchise. Blizzard closed the book on their failed "Titan Project" with the release of Overwatch. Naughty Dog said goodbye to Nathan Drake, but gamers said hello to altered realities that were both "augmented" and "virtual." Nintendo found new kingdoms to conquer with Super Mario Run. And the launch of No Man's Sky taught us that while the hype machine sometimes fails to deliver, the chance for a brighter tomorrow is always there.
But before we venture off into that great unknown, let's look back at some of gaming's highlights from 2016. (more…)
Posted in

3DS, Etcetera, Features, Mobile, PC, PS4, Top Story, Xbox One
Tagged

Dangerous Golf, Dark Souls III, Doom 4, Dragon Quest Builders, Dragon Quest VII: Fragments of the Forgotten Past, Final Fantasy XV, Hyper Light Drifter, No Man's Sky, Overwatch, Pac-Man Championship Edition 2, Pokemon Go, Pokemon Sun/Moon, Superhot, The Last Guardian, Uncharted 4: A Thief's End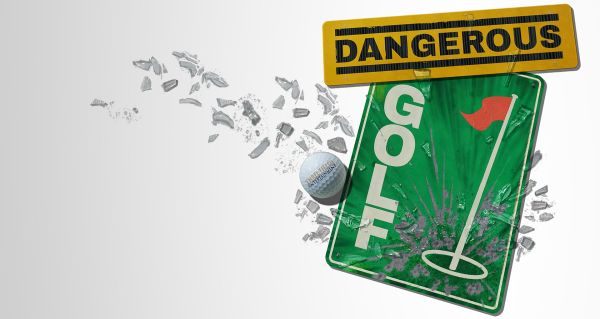 The late comedian Mitch Hedberg once said: "I'm not good at golf. I never got a hole in one, but I did hit a guy. And that's way more satisfying. You're supposed to yell 'Fore,' but I was too busy mumbling, 'There ain't no way that's gonna hit him.'"
I'm the same way. I suck at real-life golf, but when it comes to virtual golf, I'm a regular Lee Carvallo (for putting challenges, at least). From 1990's PGA Tour Golf, to the original Xbox's Microsoft Links 2004 and the more recent The Golf Club, I've always found video game golf to be a relaxing break from the usual running and gunning that is so prevalent in gaming.
Which brings us to Dangerous Golf, the debut title from new studio Three Fields Entertainment. The small team of ex-Criterion developers set about to combine two of my favorite things to do virtually that I can't get away with in real life: play golf and break stuff. At its core, this is what Dangerous Golf is about. And while the game is a satisfying and humorous experience, it isn't very deep, and is at its best when played in spurts. (more…)
The Xbox Games Store is getting dangerous today with the addition of Dangerous Golf, which is now available to download for the Xbox One. Dangerous Golf is the debut title from Three Fields Entertainment, a team comprised of a group of developers that broke away from Criterion, and players will live up to its name by using their putting skills to smash through obstacles in a wide variety of locales.
Danger also lurks around every corner in Among the Sleep, which is also now available to download for the Xbox One. Among the Sleep is a psychological horror game where players guide a toddler through an empty and unsettling house… but there's no mommy to save you from this nightmare.
Finally this week, the the free-to-play APB Reloaded is ready to break the law on the Xbox One.
More information on all of these titles, as well as a few other new releases, can be found after the break. (more…)