All Articles:
Days of Thunder Arcade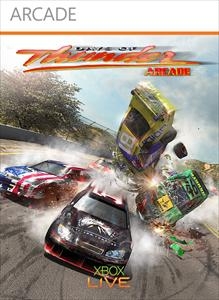 Did you think that games are only added to the Xbox Live Arcade on Wednesdays? Well think again!
Days of Thunder Arcade (which is based on the 1990 Tom Cruise movie and already had one game adaptation back in the NES days) was added to the XBLA in a surprise Friday update. Developed by Piranha Games and published by Paramount Digital Entertainment, the game is available to download at a price of 800 Microsoft Points ($10).
While Paramount/Piranha Games missed the movie's 20th anniversary, they definitely want gamers to remember that "rubbin' is racin'":
Days of Thunder Arcade is a high adrenaline stock car arcade racer. Coached by Rowdy Burns himself you can relive the intensity of the film while you race to the top of the leaderboards. Watch out for Cole Trickle and Russ Wheeler though! Race on Oval and road tracks to prove that you've got what it takes.