All Articles:
Dead Block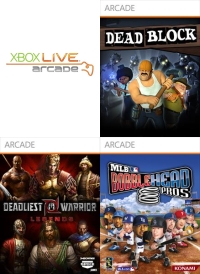 As the 2011 Summer of Arcade approaches, Microsoft has opened the Xbox Live Arcade floodgates and added three titles to the service today.
Dead Block goes all Night of the Living Dead on us as three survivors are trapped in a house with the zombie horde banging on the door. But instead of shooting their way out, this trio must barricade themselves inside and set traps for the unstoppable undead.
Deadliest Warrior: Legends is the sequel to last year's XBLA fighting game and features a new assortment of historical personages battling it out for historical bragging rights. Dracula versus Braveheart, why didn't I think of that?
Finally, Konami brings their cartoony take on the national pasttime, MLB Bobblehead Pros, to the XBLA just in time for next week's All-Star Game.
All three games have been priced at 800 Microsoft Points ($10) and more information on each title can be found after the break. (more…)