All Articles:
Deus Ex: The Fall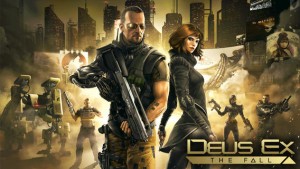 Square Enix has announced that their mobile game in the Deus Ex series, Deus Ex: The Fall, is coming to the PC. It will be released on Steam for $9.99 on March 25. It will have Steam achievements (28 total), the popular Steam Trading Cards, updated AI, and keyboard and mouse functionality, among other things.
If you pre-order Deus Ex: The Fall on Steam, you will get a digital copy of Deus Ex – Game of the Year Edition as a bonus for free. Steam is already taking pre-orders.
Deus Ex: The Fall was created with Eidos Montréal and N-Fusion, the Deus Ex: Human Revolution Team. In the game, governments have lost power to corporations, who are in control of the drugs that augmented humans rely on. An augmented, former British SAS mercenary named Ben Saxon is on the case, fighting against his private military employers named the Tyrants, wants to get to the bottom of the conspiracy.
You can find out more when Deus Ex: The Fall releases on PC on March 25.