All Articles:
Dissidia 012 Prologus: Final Fantasy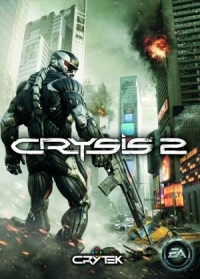 A PlayStation.Blog weekly feature, "The Drop," has given us a sneak peek at what games will be available to download tomorrow from the PlayStation Store.
While not a full game, the biggest addition to this week's PSN update is the PS3 version of the Crysis 2 multiplayer demo. Another huge demo available this week is Mortal Kombat. The sample was made available to download for PlayStation Plus users last week, but now every PS3 owner will have a chance to test out the Mature-rated fighter. Finally, a demo of the minigame crossover PlayStation Move Heroes is also in the works for the Tuesday update.
If you're more interested in full games, you can find three in this week's PSN update. PS3 owners will be able to download the Contra prequel Hard Corps: Uprising along with the "building and brawling mash up" Slam Bolt Scrappers. And PSone Classics collectors will be thrilled to learn that Parasite Eve will be added to the service this week ahead of The 3rd Birthday's March 29 release.
And speaking of PSP games, this week's PlayStation Store update sees the release of five of them: Shooter Gods Eater Burst, RPG Jikandia: The Timeless Land, sports sim Major League Baseball 2K11, puzzle racer Vertigo and the fighting game Dissidia 012 Prologus: Final Fantasy.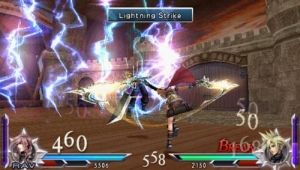 The person at Square Enix who comes up with game titles must be stopped!
Today, the publisher announced Dissidia Duodecim Prologus: Final Fantasy, a PlayStation Network-exclusive downloadable prequel chapter to Dissidia 012: Final Fantasy. The ridiculously named PSP download will be released on March 15 and is similar to Capcom's bite-sized Dead Rising 2 prequel, Case Zero. At $2.99, the game carries a bite-sized price to match.
Prologus will star Final Fantasy XIII's Lightning in her first apperance outside her original adventure. The events of Prologus will lead up to the beginning of Dissidia 012: Final Fantasy, which will be available for the PSP on March 22.
In addition to getting a taste of Dissidia 012: Final Fantasy, players will be able to unlock a variety of items in Prologus that'll carry over into the full game. And everyone who purchases the prelude will unlock Aerith Gainsborough (from Final Fantasy VII) as an Assist Character in the full game.
You can check out a Lighting-centric trailer for Dissidia Duodecim Prologus: Final Fantasy after the break. (more…)