All Articles:
Divinity II: The Dragon Knight Saga

That's right, I made a Slayer joke. It's a fitting one for the main character – a Dragon Slayer – in Divinity II: The Dragon Knight Saga, Larian Studio's compilation of Divinity II: Ego Draconis and its expansion, Divinity II: Flames of Vengeance. Like a couple of Power Rangers, these two titles cohesively fit together into an epic story of redemption, betrayal, and chicken-punting. (more…)

Next week will be one of the biggest weeks for new releases this year, but that doesn't mean publishers are taking this week off. Instead, they've put together quite possibly the oddest combination of games I've ever seen.
First up is the PS3 (with Move) and Xbox 360 (with Kinect) versions of Michael Jackson: The Experience. The King of Pop will be strutting through your living room with several new songs and a "Singing Mode." If you need to feel the rhythm on the go, Sony will release the PSP rhythm game Patapon 3 this week as well.
Two big games for the kids will be in stores this week, a video game adaptation of the movie Rio (DS, PS3, Wii, Xbox 360) and the uDraw-powered SpongeBob SquigglePants (Wii).
Finally, we have two games that start with D and have been released for other platforms before: Divinity II: The Dragon Knight Saga (Xbox 360 this week, previously on the PC) and Dance Dance Revolution (Xbox 360 this week, previously on the PS3 and Wii).
The full list of the rest of this week's new releases can be found after the break. (more…)
Posted in

DS, News, PC, PS3, PSP, Wii, Xbox 360
Tagged

Dance Dance Revolution, Divinity II: The Dragon Knight Saga, Michael Jackson: The Experience, Patapon 3, RIO, Spongebob Squigglepants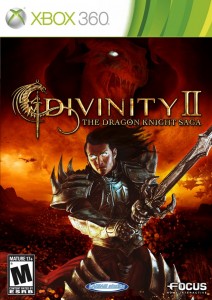 After roughly two years of near-silence on Microsoft's action-RPG-laden console, Atlus graciously announced their triumphant return to the Xbox 360 yesterday, through the publishing and release of Focus Home Entertainment's Divinity II: The Dragon Knight Saga.
The game will be released on April 12 and contain all of the expansions and DLC that Atlus has released for Divinity II so far. In a somewhat extensive quote from Aram Jabbari, Manager of Public Relations and Sales at Atlus, he detailed the package as follows:
"With Ego Draconis, the original Divinity II adventure now enhanced to live up to its original promise, and Flames of Vengeance, the tale's rousing finale, Divinity II: The Dragon Knight Saga for Xbox 360 system stands as one of the most expansive console action RPG experiences of all time. Comprehensive in its content, extensively remastered based on community feedback, and unflinching in its grand scope and ambition, this complete set offers roleplaying fans over 100 hours of intense action, unique quests, a fully realized fantasy world to explore, and the unmatched thrill of taking to the skies as a powerful dragon. There's no better or more entertaining way to mow down dozens of your enemy's troops than with searing blasts of flame from your mouth. Believe us: we've tried."
As always, Atlus plans to bundle the game with its soundtrack, satisfying the thirst of Atlus fans everywhere.
Throughout 2011, Atlus' presence on the Xbox 360 will remain prevalent, with the upcoming releases of The Cursed Crusade, Catherine, and Rock of Ages.