All Articles:
Donkey Kong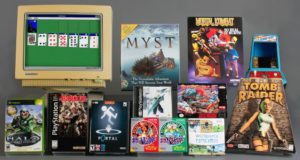 The debate has ended for another year and the induction committee from the World Video Game Hall of Fame is ready to announce their Class of 2017. Drum roll, please…
This year's first new addition to the International Center for the History of Electronic Games's Hall of Fame is Donkey Kong. Nintendo's first big hit became an arcade sensation in 1980, and also introduced the world to a mustachioed plumber named Mario. On the game's selection, ICHEG Director Jon-Paul Dyson said, "[Donkey Kong's] overarching narrative of love and its vibrant graphics brought the game to life in a way that few other games could in the early 1980s. It captured the hearts of a generation."
This year's class also includes Halo: Combat Evolved, Bungie's groundbreaking first person shooter and the game that put Microsoft's Xbox on the map. Curator Shannon Symonds said, "[Halo] boasted one of the strongest multiplayer experiences of its time and created a legion of hardcore fans that refer to themselves as the 'Halo Nation.' "
Hot off the heels of the launch of Pokemon Go, the Hall of Fame also chose to induct Pokemon Red and Blue, the first pair of games released in the far-reaching RPG franchise. The universal appeal of the franchise was a major factor in its selection, as Symonds added: "Pokemon Red and Blue launched a franchise that has taken the world by storm, vaulting many of its characters, such as Pikachu, into popular, mainstream culture. Nearly two decades after its inception and with the introduction of Pokemon Go, 'Poke-mania' shows little sign of fading."
Finally, Capcom's Street Fighter II: The World Warrior became the first one-on-one fighting game to be added to the Hall of Fame as the final member of the Class of 2017. ICHEG Assistant Director Jeremy Saucier believes that Street Fighter II's social component fueled its popularity, adding, "This communal style of game play reinvigorated the arcade industry in the 1990s and helped give birth to a generation of fighting games."
Congratulations to all of this year's inductees.
The World Video Game Hall of Fame chose to deny entry to eight other finalists this year including Final Fantasy VII, Microsoft Windows Solitaire, Mortal Kombat, Myst, Portal, Resident Evil, Tomb Raider, and Wii Sports. But they'll get another shot. Nominations are already being accepted for the Class of 2018.