All Articles:
Dungeon Hunter: Alliance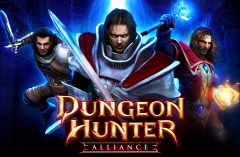 Sony's massive "Spring Fever" sale may be over, but that doesn't mean the consolemaker plans to stop adding awesome games to the PlayStation Store.
This week's offerings include Dungeon Hunter: Alliance, the first ever multiplayer action RPG for the PS3; Might & Magic: Clash of Heroes, the "ultimate puzzle RPG"; and a downloadable version of Assassin's Creed. Best of all, Dungeon Hunter and Might & Magic have been discounted this week for PlayStation Plus members. Dungeon Hunter will be available to download for $9.74 (instead its regular $12.99 pricetag) while Might & Magic can be had for $11.99 ($3 off its $14.99 regular price).
The PSP Store also received one new game this week, Sony's rhythm puzzler Patapon 3.
More information on all of these titles can be found after the break and a full listing of every new add-on to the PlayStation Store can be found at the PlayStation.Blog. (more…)