All Articles:
Far Cry 3: Blood Dragon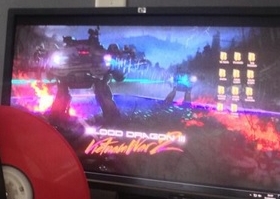 Even though yesterday was the scoundrel's holiday known as April Fool's Day, some game publishers will occasionally make real announcements about real games. Such was the case last year, when Ubisoft revealed Far Cry 3: Blood Dragon, a downloadable spinoff to Far Cry 3 that was heavily inspired by the 1980s "VHS Era" of direct-to-video schlock. And they might have done it again.
Yesterday, horror director Jason Eisener posted a photo to Instagram of his brand new Blood Dragon soundtrack album. In the background of the picture was a television monitor, and upon this television monitor was an image that included a logo for something known as "Blood Dragon III: Vietnam War 2."
Is it all a prank? Or is it another elaborate low-rent marketing stunt? Later in the day, Dean Evans, the Creative Director behind Blood Dragon, posted a similar image to Twitter and included the hashtag "#vietnamwar2":
This would be a killer game/movie/comic/revolution. Solid work from @AndyBelanger #vietnamwar2 pic.twitter.com/558pfSqGgt

— Dean Evans (@SpleenZilla) April 1, 2014
Talk of a Far Cry 3: Blood Dragon sequel began almost as soon as the first game was released when Michael Biehn, the voice of Rex Power Colt, discussed the possibility of a sequel less than a week after the game's release. And Ubisoft has been touting a surprise game reveal for next week's PAX East convention, so perhaps the only fool is the one who doesn't believe that Blood Dragon III: Vietnam War 2 is real.