All Articles:
Final Fantasy IV: The Complete Collection

Final Fantasy IV is probably going for a spot in the Guinness Book of World Records for most ports and iterations. After debuting on the Super Nintendo, it's been ported to the PlayStation, updated for the Game Boy Advance, remade for the Nintendo DS, and now bundled with Final Fantasy IV: The After Years alongside a new Interlude to form Final Fantasy IV: The Complete Collection. A tour de force in nostalgia as well as a series of fun episodes, The Complete Collection is a great item for collectors and FF fans, but not necessarily a "must-have" PSP title. (more…)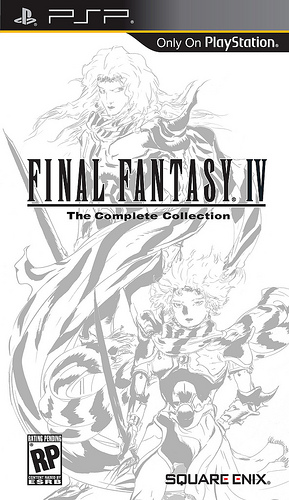 The Super Nintendo. The PlayStation. The Game Boy Advance. The Nintendo DS. Going on its fifth platform, Square Enix is still giving you reasons to buy Final Fantasy IV: The Complete Collection. One such reason is Final Fantasy IV: Interlude, an all new game set to connect the original IV with its WiiWare sequel, The After Years. The PlayStation Blog revealed that this new connected story will be "weighing in at 15-odd hours of new gameplay." I'd be happy if a downloadable game gave me 15 hours, so it's excellent for this episode to be more like a full game.
Another feature may be of more note to RPG purists: the PSBlog portrays this version of the game as its "pure, uncensored form," specifically denoting skimpy outfits and mature references. This is actually a big deal. For example, Final Fantasy VI directly translated is almost a completely different game than American players were used to, dealing with issues of prostitution, teen pregnancy, and suicide. No word if "Spoony Bard" will return (it did), but expect a nice package when FFIV: The Complete Collection releases for PSP on April 19.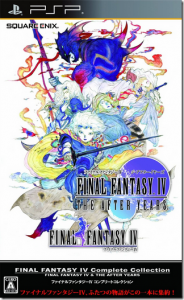 In a big day for Square Enix PSP release dates, the company has also announced Final Fantasy IV: The Complete Collection will arrive at retail (again: no PlayStation Store) on April 19, 2011. The game combines Final Fantasy IV with updated graphics and sound in the style of the FFI & II PSP remakes, as well as the first retail packaging of Final Fantasy IV: The After Years. It would've been nice to have the style and expanded story of the Nintendo DS remake of FFIV, but hopefully this version will be a little more true to the original experience.
2011 also marks the 20th anniversary of Final Fantasy IV, first released in 1991 for the Super Nintendo (and under the confusing name Final Fantasy II in the United States). The game is widely recognized as a milestone for storytelling in RPG's and video games.