All Articles:
Final Fantasy Origins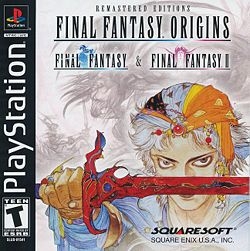 The first two chapters of the Final Fantasy saga were added to the PlayStation Network yesterday. With the addition of Final Fantasy Origins to the PSone Classics line, Square Enix has also ensured that all nine PSone games in the franchise are now available to download from the store. Speaking of Final Fantasy, a Final Fantasy XIII-2 demo was also made available to download yesterday.
Also available this week is Choplifter HD, "a classic arcade adventure, reimagined in stunning HD!" Players will be able to pilot their chopper through frantic war zones while rescuing survivors and raining down destruction.
Here's what else you can grab from the PlayStation Store this week:
PSN Games
Crazy Machines Elements ($9.99)
Hundreds of totally wacky chain reactions are just waiting to be created! Experience the latest chapter in the international, multi award-winning Crazy Machines series: "Elements". This time with next gen visuals!
PS3 Full Games
Sports Champions ($29.99)
Sports Champions will let you and your friends physically engage in an array of competitive sporting activities as you go head to head in six events. With the easy to use PlayStation Move motion controller, anyone can crush, spike and smoke the competition in the ultimate sports showdown.
Toy Story 3: The Video Game ($19.99)
In the Toy Story 3: The Video Game help Buzz, Woody, and the rest of the toys ensure no toy gets left behind. Dive into all new heroic adventures in Story Mode or let your imagination run wild in the exciting new open world of Toy Box Mode.
And for a full rundown of all the new game add-ons and demos available this week, head over to the PlayStation Blog.