All Articles:
Grand Theft Auto: Episodes From Liberty City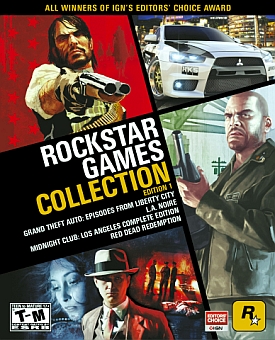 It's just raining Rockstar news today! In addition to showing a trio of editors from Game Informer around Grand Theft Auto V, the publisher also announced that the four-game Rockstar Games Collection: Edition 1 will be available for the PS3 and Xbox 360 on November 6.
The compilation, which is priced at $59.99, is a stellar deal and includes such fan favorites as Red Dead Redemption, L.A. Noire, Grand Theft Auto: Episodes From Liberty City, and Midnight Club: Los Angeles – Complete Edition. If these games have somehow passed under your personal radar, here's a quick overview of what you'll find within the Rockstar Games Collection: Edition 1…
Red Dead Redemption – Winner of over 170 Game of the Year awards, Red Dead Redemption brings the dying West to life with a vibrant open-world, powerful story, and intense single- and multiplayer action.
Grand Theft Auto: Episodes from Liberty City – The explosive conclusion to the highest-rated game of all time, Grand Theft Auto IV, featuring two complete games on one disc: The Lost and Damned & The Ballad of Gay Tony.
L.A. Noire – The revolutionary crime thriller featuring MotionScan, a breakthrough technology that captures every nuance of a real actor's facial performance, providing a level of realism, detail and emotion never before seen in a video game. Featuring brand new gameplay and a dark, hard-boiled detective story, L.A. Noire became the first ever video game to be recognized by the Tribeca Film Festival.
Midnight Club: Los Angeles Complete Edition – One of the highest-reviewed racing titles of this generation, featuring deeply customizable real world cars, non-stop open world street racing and intense multiplayer action. The Complete Edition also includes every downloadable real world vehicle and city section released since launch.