All Articles:
Guilty Gear Xrd Sign
Aksys Games has announced that the Arc System Works-developed Guilty Gear Xrd Sign will be released for the PS4 and PS3 on December 16.
The publisher's Director of Production, Frank "Bo" DeWindt II, signed onto the PlayStation Blog today to talk a bit about the game's roster and the upcoming Limited Edition. I have to admit, Bedman sounds absolutely demented in the best possible way:
The character roster also has a lot of familiar faces, from the widely known Sol Badguy and Ky Kiske, two beacons of the Guilty Gear franchise, all the way to someone as cute and adorable as the Jellyfish pirate, May!

Some of the newer characters include the unique and cunning, Bedman, who, like his namesake, is attached to and fights using nothing else but… A BED! And of course the monotone and lovely Ramlethal Valentine, whose swords, if used correctly, can really dish out some punishment on your opponent.
The Guilty Gear Xrd Sign Limited Edition will include a variety of goodies, all housed in a box depicting the game's "Backyard" locale. Inside the box, players will find the Vocal Collection soundtrack CD, the Guilty Gear Codex art book, and a keychain modeled after Sol Badguy's "Free" belt buckle.
The PS3 version of the Limited Edition will be priced at $69.99, while the PS4 Limited Edition will set you back $79.99.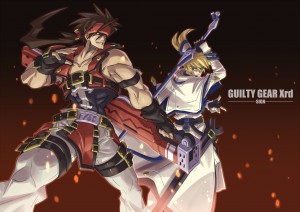 The latest game in the Guilty Gear series, Guilty Gear Xrd Sign, will be available this holiday season in North America, according to Aksys Games. This addition to the fighting game franchise will be coming to the PlayStation 3 and PlayStation 4 systems.
Fans can head to the Aksys Games meeting space (Booth #8816) during this year's E3 Expo to get a poster signed by creator Daisuke Ishiwatari on Thursday, June 12 from 3:00 PM – 4:00 PM (Pacific Time). There will also be open house hours on Tuesday, June 10 from 4:00 PM – 6:00 PM and Wednesday, June 11 from 12:00 PM – 2:00 PM.