All Articles:
Gundam Versus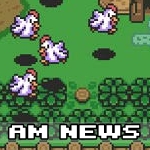 We've got another packed PlayStation Store update today, so let's not waste any time…
EA Sports will let players return to the pitch in FIFA 18. The battling mechs from the Gundam universe will make their PS4 debut in Bandai Namco 's Gundam Versus. NIS America's murder mystery series continues in Danganronpa V3: Killing Harmony. Pinball FX3 calls "next" in the pinball simulation arena. Hob is a new action-adventure game from Runic Games. SteamWorld Dig 2 digs deep into its "MetroidVania" roots. And Bethesda has bundled together all the downloadable content in Fallout 4: Game of the Year Edition.
All of these games will be available to download for the PS4.
You can learn more about this week's additions to the PlayStation Store (including a handful of Vita games) after the break. (more…)