All Articles:
HarmoKnight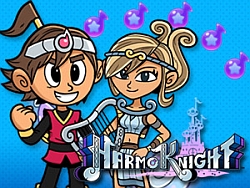 It's an all-3DS Nintendo Download day as the company adds HarmoKnight, Legend of the River King, Resident Evil Revelations, and Sonic & All Stars Racing Transformed to the 3DS eShop.
More details on all of these games can be found right here:
HarmoKnight – Strike and jump to the beat in this rhythm-based action platformer from Game Freak, the makers of Pokemon! With over 50 stages spanning eight worlds, it's a full-featured game in a digital package. Feel the music and find your rhythm to save Melodia!
Resident Evil Revelations – Jill Valentine and BSAA partner Parker Luciani have been sent to search for Chris Redfield, whose last known GPS data positions him as being onboard a supposedly abandoned cruise ship. Danger hides around every corner as they explore the confined space of the ship and face a menacing new enemy and virus; the T-Abyss.
Sonic & All Stars Racing Transformed – Compete across land, water and air in incredible transforming vehicles that change from cars to boats to planes mid-race. Master your driving skills as you drift, barrel roll and boost to overtake your rivals, or use your weapons tactically and unleash your All-Star move to gain the winning advantage.
Legend of the River King – The Legend of the River King is a unique fishing RPG that offers two great modes, putting your angling and survival skills to the test!