All Articles:
Haunt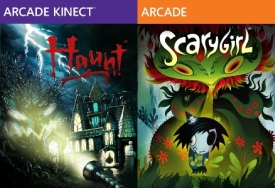 It's "things that go bump in the night" day on Xbox Live Arcade today with the release of Scarygirl (priced at 1200 Microsoft Points/$15) and Haunt (priced at 800 Microsoft Points/$10).
Scarygirl, based on the graphic novel of the same name, is a side-scrolling platformer where a one-eyed girl with tentacle arms has to save the Tree of Knowledge:
Scarygirl is a wondrous adventure through a beautifully-bizarre world based on the Scarygirl graphic novel created by acclaimed artist Nathan Jurevicius. Scarygirl, an abandoned girl, dressed like a pirate, with a tentacle arm, is sent on a quest to discover what happened to the Tree of Knowledge. Along the way, she'll be aided by a giant octopus, a mystical kung-fu rabbit, and vendors who sell new attacks. She can also enter a shadowy version of the world to unleash truly wicked attacks.
And Haunt is a Kinect-powered, first-person, haunted house sim:
Welcome to Benjy's Mansion – a spooky haunted house where you are the first visitor for a generation! Haunt leverages the power of Kinect to enable you to freely explore the house using just your body as the controller – you'll need to stay on your toes in order to outsmart the mansion's host of fiendish ghosts and unravel the sinister secrets that shroud the mansion in mystery!