All Articles:
Heavy Fire: Black Arms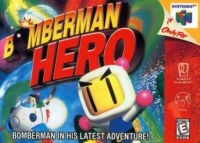 It's Monday and Nintendo has updated the Wii Shop Channel with two explosive games.
Blasting off first is Bomberman Hero, an N64 game that is now available on the Virtual Console. And blowing up on WiiWare is Heavy Fire: Black Arms, a light gun shooter from Teyon.
The three additions to the DSiWare service are a bit less combustible, but Gamebridge has released GO Series: Earth Saver, which is the closest thing to Armageddon The Game there'll probably ever be. Other addition include the "platform racer" Jelly Car 2 and the swinging platformer G.G Series: Horizontal Bar.
More information on all of these games can be found after the break. (more…)