All Articles:
Heroes of Ruin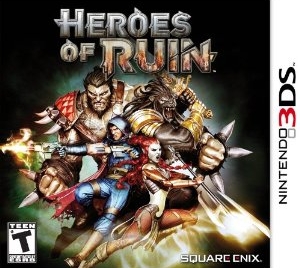 I'll understand if you want to skip this week's new release report, especially since only a single new game will make it's way into stores on Tuesday.
That game is Heroes of Ruin, a dungeon crawling RPG from Square Enix for the 3DS. A demo has been available on the 3DS eShop for a few weeks now, so if it sounds like something you might be interested in, be sure to give the demo a look this weekend.
And It's not a new game, but a Star Wars: Knights of the Old Republic Collection (PC) will be released this week as well.
A few new downloadable games are also scheduleded for release this week including Tony Hawk's Pro Skater HD on the Xbox Live Arcade, the continuation of Nintendo's 8-Bit Summer, and whatever Sony has planned for the PlayStation Store.

Square Enix is using this year's E3 Expo to show off all the shiny new toys it acquired from Eidos and Activision over the last few years.
Those toys include the rebooted Tomb Raider; Hitman: Absolution, Agent 47's next mission; and Sleeping Dogs, the Activision open-world game that was previously known as True Crime: Hong Kong.
Also on hand will be a slew of handheld titles (correction… 3DS titles) including Theatrhythm Final Fantasy, Heroes of Ruin, and Kingdom Hearts 3D: Dream Drop Distance. A new Final Fantasy game for iOS and Android, Final Fantasy Dimensions, will also make its debut at this year's big show.
Finally, the publisher plans to showcase Quantum Conundrum, one of my favorite games from PAX East.
Hit the jump for Square Enix's complete E3 lineup. (more…)
Final Fantasy XIII-2, which was first announced at Square Enix's 1st Production Premier event back in January, will headline the publisher's E3 slate.
The game will be playable for the first time on the E3 show floor, where it will be joined by other big titles like Hitman: Absolution, Tomb Raider and Deus Ex: Human Revolution. Suffice it to say, Square Enix has hugely embraced the Eidos Interactive properties they acquired back in 2009. Square Enix will also be showcasing Deep Silver's Dead Island at their booth, which they will distribute in North America.
Hit the jump for a ton of information on Square Enix's E3 lineup straight from the publisher. (more…)
Posted in

3DS, News, PC, PS3, Xbox 360
Tagged

Deus Ex: Human Revolution, Dungeon Siege III, E3 2011, Final Fantasy XIII-2, Heroes of Ruin, Hitman: Absolution, Tomb Raider, Wakfu