All Articles:
Hunted: The Demon's Forge

The month of May didn't start with many big releases and it comes to an end in much the same way.
There's Bethesda's co-op action-adventure Hunted: The Demon's Forge for the PC, PS3 and Xbox 360; the latest Sims 3 expansion, The Sims 3: Generations; and the 3DS/PSP conversion of BlazBlue: Continuum Shift II. That's pretty much it. See you in June.
Check out the full list of the rest of this week's new releases after the break. (more…)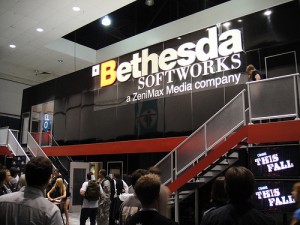 Today Bethesda announced its biggest games for 2011, and it's looking like a pretty solid lineup. Brink, the highly smooth First Person Shooter from Splash Damage blending single player, co-op, and multiplayer will be coming May 17th in the U.S. and May 20th in Europe; the fantasy action game Hunted will release June 1st in the U.S. and June 3rd in Europe; id Software's highly anticipated Rage will finally land September 13th in the U.S. and September 16th in Europe; and finally, Bethesda Game Studios' very own The Elder Scrolls V: Skyrim will be launching worldwide on the convenient 11/11/11. All of these titles will be releasing for PC, Xbox 360, and PlayStation 3, with RAGE still coming to the Mac as well.
I've never been a fan of the publisher, but this is definitely a strong year for them. I've been following Rage for a long time, and Doom-meets-MotorStorm is something I simply can't pass up.