All Articles:
Inversion

With E3 less than 48 hours away, it's understandable if this week's new releases haven't registered with you yet. And game publishers are doing their best to keep most new releases away from store shelves while the industry indulges in a little spectacle over "what's next." But a few big titles will soon land on store shelves:
For example, there's Namco Bandai's gravity-defying shooter Inversion for the PS3 and Xbox 360. A PC version will materialize later this year.
There's also a new version of Pikmin 2 for the Wii complete with Wii Remote/Nunchuk controls.
Finally, a tie-in game based on Madagascar 3 will stampede onto five platforms (3DS, DS, PS3, Wii, Xbox 360) and Katy Perry continues her transformation into a video game character with The Sims 3: Katy Perry Sweet Treats on the PC.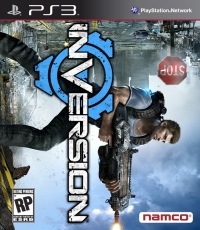 Namco Bandai has some bad news for everyone who wanted to flip their game room upside down in two weeks. The publisher has told Joystiq that Inversion will miss its scheduled February 7 release date:
"The launch of Inversion has been moved to early 2012, and more details will follow in an upcoming announcement. This additional development time will allow the team to polish several key aspects of the game ensuring Inversion is of the highest quality."
Inversion's new release window means that the PS3 and Xbox 360 game should be available by the end of March. And if it's not, we'll flip!

The Mayans and film director Roland Emmerich would have us believe that the end of the world is nigh. Really nigh. Knee nigh almost. But despite the warnings, it seems most game designers shirked off the warning that was Emmerich's masterpiece 2012 and decided to roll out the same old stuff. We have Final Fantasy XIII-2, Guild Wars 2, Borderlands 2, Darksiders II, The Darkness II, Mass Effect 3, Max Payne 3, Soul Calibur V, and Street Fighter X Tekken (I know the X doesn't equal 10, but it might at well). I am sure some of these games will be amazing (and I have my £40 saved for Borderlands 2 already), but if it really, truly is the end of life, the universe and my games consoles, then is it too much to ask to play something new before we're all burned, drowned, stabbed or frozen to death (depending on which mood Emmerich is in) instead of say, another instalment of Call of Duty or, hypothetically, taking an isometric political espionage strategy game from 1993 and turning it into yet another First Person Shooter?
Thankfully no. (more…)
Posted in

Features, PC, PS3, Top Story, Vita, Xbox 360
Tagged

Binary Domain, Dishonored, Inversion, NeverDead, Ni no Kuni: Wrath of the White Witch, Sound Shapes, The Last Guardian, The Last of Us