All Articles:
Kirby's Adventure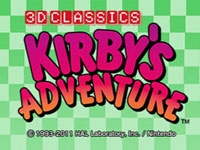 It's Thursday and Nintendo has, once again, updated their trio of download services. This week's batch of new games is lead by Kirby's Adventure. The NES favorite (and Kirby's first adventure in color and his first on a console) has been given a "3D Classics" makeover for its inclusion on the 3DS eShop today.
Another Legend of Zelda Symphony piece is available for the 3DS's video service along with these other games:
Escape Trick: Convenience Store (DSiWare) – When our main character tries to leave the convenience store where he works, he finds that the door won't open and the store looks somehow different. Who would lock him in here? Can he get out of this place?
Play & Learn Chinese (DSiWare) – Play & Learn Chinese is the fast, fun, and friendly way to learn to speak Chinese!
Pinocchio's Puzzle (WiiWare) – Solve increasingly difficult puzzles as you progress through the classic tale of Pinocchio. In addition to developing sensory skills and hand-eye coordination, you'll enjoy an endearing and enchanting story told puzzle by puzzle.
More information on all of these games can be found within the Nintendo Download weekly newsletter.