All Articles:
L.A. Noire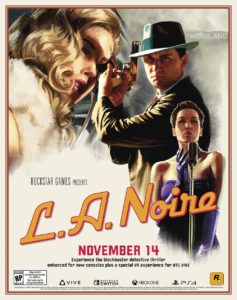 L.A. Noire's focus on detective work has made it one of the most unique games of the last decade, and fans who missed it the first time around will get the chance to try it out this November, as Rockstar has announced plans to re-release it for the PS4, Xbox One, and Switch this November.
Owing to the different strengths of the Switch and the PS4/Xbox One, Rockstar is producing two relatively unique versions of the game. Both versions will include the full game and all previously-release downloadable content, but players on the PS4/Xbox One will be able to experience L.A. Noire in 1080p with "enhanced lighting and clouds, new cinematic camera angles, high resolution textures, and more." And those who've upgraded to the PS4 Pro or Xbox One X will be able to play the game in 4K resolution.
Meanwhile, the Switch version of the game will include a special "Joy-Con Mode" with gesture-based controls, as well as HD Rumble support, new wide and over-the-shoulder camera angles, and "contextual touch screen controls for portable detective work."
Rockstar will also launch a special mini-version of L.A. Noire for the HTC Vive known as L.A. Noire: The VR Case Files. "Rebuilt specifically for virtual reality," players will be able to slip on a headset and play through seven self-contained cases from L.A. Noire in virtual reality.
"We're excited to bring L.A. Noire's unique mix of real detective work, classic Hollywood atmosphere and thrilling action to these new platforms," said Sam Houser, the Founder of Rockstar Games. "Now with a choice of spectacular virtual reality, stunning 4K, or the freedom of portable play, these enhanced versions are a perfect opportunity for players to experience this richly detailed world in a whole new way."
L.A. Noire: The VR Case Files and L.A. Noire for the PS4, Xbox One, and Switch will be released on November 14.