All Articles:
Lego Legends of Chima: Laval's Journey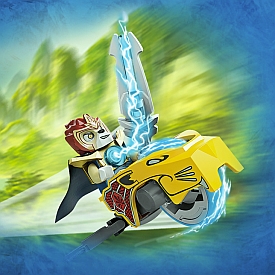 The Lego Group and Warner Bros. Interactive Entertainment have announced their next collaboration… a trio of games based on the brand new Legends of Chima line of Lego sets.
Legends of Chima is Lego's latest crack at an original universe. The sets, which are available in stores now, takes place in "a mythical land of magical animal tribes who compete for Chi, a valuable energy source which gives them extraordinary powers over one another."
WB Games (and TT Games, their internal studio specializing in Lego-based titles) has signed on to produce three games based on the toy line. The first, Lego Legends of Chima: Speedorz, is a racing game that's playable at Lego.com right now and will be available to download from the iTunes App Store beginning tomorrow (January 3).
The second game, Lego Legends of Chima: Laval's Journey, is scheduled for release on the 3DS and Vita this Summer with a DS version set for a Fall 2013 release. Players will "embark on an amazing adventure into the world of Chima where the brave warrior Laval and his allies are called upon to fight for justice" in Laval's Journey.
Finally, Lego Legends of Chima Online is a free-to-play online game that's in development at WB Games Monrteal. The game will be available this Fall.
More information on all three of these games can be found after the break. (more…)