All Articles:
Lego Marvel Super Heroes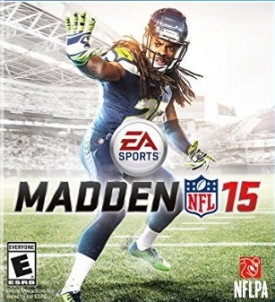 Even though his stance said, "stop," Richard Sherman took it to the house as the cover athlete of Madden NFL 15. While it's too early to be concerned with The Curse, EA Sports' latest football sim, as expected, toppled the competition and emerged as the best-selling game of August 2014, according to The NPD Group.
Only a small number of new releases made their way onto store shelves last month and many of them were re-releases of older titles. This tactic helped Diablo III: Reaper of Souls reach the #2 spot as the "Ultimate Evil Edition" is now available for previous-generation and current-generation consoles. And thanks to its PlayStation debut, Plants vs Zombies: Garden Warfare cracked the top ten for the first time at #7.
Joystiq posits that this lack of major releases is the reason why game sales were down when compared to last August. The eighth month of 2013 saw the release of Madden NFL 25 as well as Tom Clancy's Splinter Cell: Blacklist, Saints Row IV, and Disney Infinity.
A full look at the top ten best-selling games of August 2014 can be found after the break. (more…)
Posted in

3DS, DS, News, PC, PS3, PS4, Vita, Wii U, Xbox 360, Xbox One
Tagged

Battlefield 4, Call of Duty: Ghosts, Lego Marvel Super Heroes, Madden NFL 15, Minecraft, NPD, Plants vs Zombies: Garden Warfare, The Last of Us, The Lego Movie, Watch Dogs