All Articles:
Life Is Strange: Before the Storm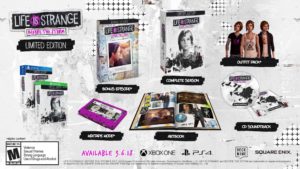 Square Enix and Deck Nine Games have announced that Life Is Strange: Before the Storm will make its way to retail stores on March 6. The prequel to the very popular Life Is Strange will be available for the PS4 and Xbox One in three different configurations including a Standard Edition ($29.99), a Limited Edition ($39.99), and a Vinyl Edition ($69.99).
All three versions of the game will include a bonus episode entitled "Farewell," which reunites Chloe and Max, as well as their original voice actors, Ashly Burch and Hannah Telle. A new Mixtape Mode will let players score cinematic scenes with selections from the game's soundtrack, and an Outfit Pack will add three new costumes to Chloe's closet ("Punk Doe," "Hawt Dawg Man," and "Illuminati"). Finally, the first episode of the original Life Is Strange will be included with all retail versions of the game.
Players who opt for the Limited Edition will receive a physical art book and a soundtrack CD for the game. The Vinyl Edition, which will be sold exclusively through the Square Enix Store, will swap out the CD with a vinyl record and add a pair of Chloe and Rachel figurines.
Life Is Strange: Before the Storm fans who have already purchased the Digital Deluxe Edition will also be able to download "Farewell" on March 6. And in case you missed it, a behind-the-scenes video for the bonus episode can be found after the break. (more…)