All Articles:
LittleBigPlanet Karting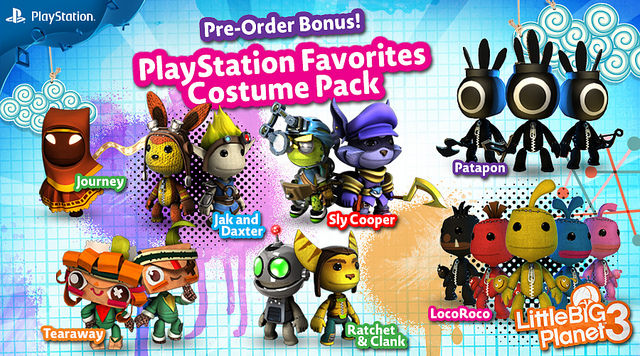 I was curled up in a ball crying by the end of the LittleBigPlanet 3 presentation at this year's E3. I had thought about the game, but assumed it was really, really far away, or maybe not even being made at all. To be shocked with people playing it on a giant screen practically made me hyperventilate. I had pretty much the same exact reaction when Sony announced on the PlayStation Blog that LBP3 would be released November 18. That's THIS November.
OMG.
LittleBigPlanet will be released simultaneously for both PlayStation 3 and PlayStation 4, and there are tons of pre-order bonuses you can get – Sackboy plushies are just one of them (if you place your order at Target, he'll be wearing a Target hat). Everyone who orders on PS4 will get a special Dragon Age: Inquisition costume pack. And then there are three other special packs – Mythical Creatures come with GameStop pre-orders, you'll get Hidden Creatures at Best Buy, and my personal favorite is Amazon's – the PlayStation Favorites. It includes the traveler from Journey! Oh, infinite squees.
They're not leaving out the digital-only buyers, either. Those players get a special LittleBigPlanet 3 T-Shirt Pack, which they can start using right away in LittleBigPlanet 2, LittleBigPlanet Vita, and LittleBigPlanet Karting.
I'm so excited I could cry a little. I can't wait to meet Sackboy's buddies on November 18th!