All Articles:
Mario & Luigi: Dream Team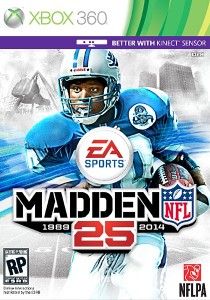 The NPD Group has released their monthly report on the financial health of the video game industry and, good news, retail game sales in August 2013 increased 21% over the same period last year. The entire retail game industry (games, consoles, and accessories) raked in $521 million, an increase of 1% over August 2012. Though the report estimates this number accounts for only half of all video game spending in August when you factor in used games, rentals, digital sales, add-on content, subscriptions, mobile apps, and social network microtransactions that the NPD doesn't track.
Most of the increase in game sales was due to a stronger than usual slate of August releases. In fact, only two games in the August top ten are holdovers from previous months (Minecraft: Xbox 360 Edition at #5 and NCAA Football 14 at #7).
The remainder of the top ten is populated entirely by new titles: Madden NFL 25 (#1), Saints Row IV (#2), Disney Infinity (#3), Tom Clancy's Splinter Cell: Blacklist (#4), Mario & Luigi: Dream Team (#6), Payday 2 (#8), Final Fantasy XIV: A Realm Reborn (#9), and Pikmin 3 (#10).
If you'd prefer the top ten in list format, you can find it right here:
Bestselling Games in August 2013
1. Madden NFL 25 (Xbox 360, PS3)
2. Saints Row IV (Xbox 360, PS3, PC)
3. Disney Infinity (Xbox 360, Wii, PS3, Wii U, 3DS )
4. Tom Clancy's Splinter Cell: Blacklist (Xbox 360, PS3, Wii U, PC)
5. Minecraft: Xbox 360 Edition (Xbox 360)
6. Mario & Luigi: Dream Team (3DS)
7. NCAA Football 14 (Xbox 360, PS3)
8. Payday 2 (Xbox 360, PS3)
9. Final Fantasy XIV: A Realm Reborn (PS3, PC)
10. Pikmin 3 (Wii U)
[Source: GameSpot]