All Articles:
Mario's Picross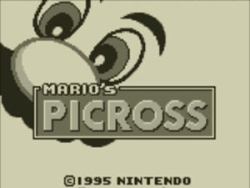 Nintendo has performed their weekly update of the 3DS eShop, the Wii Shop Channel and the DSiWare Shop. Here's what you can download on your favorite Nintendo system today:
Nintendo 3DS eShop
Mario's Picross – Help Mario unlock the mystery of Picross. The secrets lie in the numeric codes at the top and on the left side of each window. Decipher these numbers and uncover hidden pictures.
Nintendo DSiWare
B Team – Episode 2: Ice & Venom – Multiple weapons, upgradeable equipment, challenging boss battles and destructible environments bring this action-packed shooter to life.
Go Fetch! 2
Play & Learn Spanish
WiiWare
Monochrome Racing – Screeching tires, the smell of burned rubber, the rush of adrenaline, enemies left in the dust – immerse yourself in a mysterious monochrome world where color is your fuel.
More information on all of these games can be found in the weekly Nintendo Download newsletter.