All Articles:
Metroid II: Return of Samus
Nintendo's focus at this year's E3 Expo is squarely on the Switch, but the 3DS will still receive a handful of new games this Fall. Leading the way is Metroid: Samus Returns, a remake of Metroid II: Return of Samus that's been "rebuilt from the ground up" for Nintendo's dedicated handheld.
Nintendo considers Metroid: Samus Returns a "modern reimagining" of Metroid II, adding "immersive 3D visuals" and an "atmospheric color palette" to the game. Samus Aran will also be equipped with a new Melee Counter, Free Aim Mode for her Arm Cannon, and "mysterious" Aeion Abilities. Some form of Amiibo support will also be included. But as you can see from the trailer, the side-scrolling platforming of the 1991 original will remain.
Metroid: Samus Returns will be available for the 3DS, alongside two new Amiibo figures, on September 15. You can get a look at the brand new Samus Aran and Metroid figures after the break. (more…)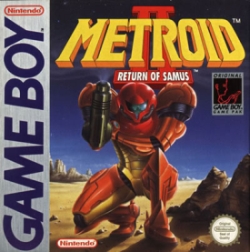 It may be hard to believe, but once upon a time, Nintendo didn't consider Samus Aran one of their premier characters. After Metroid's release on the NES back in 1987, it took a full four years before Metroid II: Return of Samus was released. Another mark of the franchise's second-class status was that it wasn't released for Nintendo's cutting edge Super NES or the aging NES, but as a black-and-white Game Boy game.
However, Return of Samus contained all the great Metroid action that fans of the NES original loved and it paved the way for Super Metroid, the Prime series, and the all the rest of Samus's adventures. And now you can download it on your 3DS.
Here's what else Nintendo has planned for this week's Nintendo Download:
Battle of the Elements (DSiWare) – Get ready to travel around the world facing the most powerful characters in intense battles of elements, where you'll need to think as fast as you move your stylus in order to earn the victory.
Come On! Heroes (DSiWare) – This action game tests your reactions. The "Lovely Heiress" is being held for ransom. Mr. King announces that anyone who brings back his daughter will receive a great reward.
Big Bass Arcade (WiiWare) – Big Bass Arcade is loaded with fishing action. Catch a boatload of fish and take a shot at the World Record Bass. Compete in Challenges and Tournaments, or Free Fish any lake at your own pace.
More information on all of these titles can be found within the Nintendo Download Weekly Newsletter.