All Articles:
Midnight Club: Los Angeles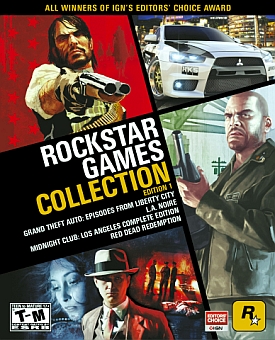 It's just raining Rockstar news today! In addition to showing a trio of editors from Game Informer around Grand Theft Auto V, the publisher also announced that the four-game Rockstar Games Collection: Edition 1 will be available for the PS3 and Xbox 360 on November 6.
The compilation, which is priced at $59.99, is a stellar deal and includes such fan favorites as Red Dead Redemption, L.A. Noire, Grand Theft Auto: Episodes From Liberty City, and Midnight Club: Los Angeles – Complete Edition. If these games have somehow passed under your personal radar, here's a quick overview of what you'll find within the Rockstar Games Collection: Edition 1…
Red Dead Redemption – Winner of over 170 Game of the Year awards, Red Dead Redemption brings the dying West to life with a vibrant open-world, powerful story, and intense single- and multiplayer action.
Grand Theft Auto: Episodes from Liberty City – The explosive conclusion to the highest-rated game of all time, Grand Theft Auto IV, featuring two complete games on one disc: The Lost and Damned & The Ballad of Gay Tony.
L.A. Noire – The revolutionary crime thriller featuring MotionScan, a breakthrough technology that captures every nuance of a real actor's facial performance, providing a level of realism, detail and emotion never before seen in a video game. Featuring brand new gameplay and a dark, hard-boiled detective story, L.A. Noire became the first ever video game to be recognized by the Tribeca Film Festival.
Midnight Club: Los Angeles Complete Edition – One of the highest-reviewed racing titles of this generation, featuring deeply customizable real world cars, non-stop open world street racing and intense multiplayer action. The Complete Edition also includes every downloadable real world vehicle and city section released since launch.

Another big update of games and sales has landed on PSN. From the creators of Super Stardust HD and Dead Nation comes Outland, a unique 2D platformer looking to shake up your digital library. Magic The Gathering: Duels of the Planeswalkers 2012 brings all new decks and modes for players who have been sucked into this video game version of one of the most popular card games on the planet. PlayStation Plus subscribers can get it for a few bucks off. Midnight Club: Los Angeles – Complete Edition gets a downloadable release for $19.99, and the new game section is rounded out by Greg Hastings Paintball 2 and city-builder Akimi Village.
Also, if you're a Plus subscriber, and haven't played Braid yet, the game is on sale for $3.75. Yes, you read that right. The full PlayStation Store update can be found here.