All Articles:
Mike Tyson's Punch-Out!!
Michelle Beadle is a host of ESPN's SportsNation, but she is woefully unprepared for this Saturday's big boxing bout between Manny Pacquiao and Floyd Mayweather. Thankfully, her co-hosts, Max Kellerman and Marcellus Wiley, have the perfect solution to get her in fighting shape: Mike Tyson's Punch-Out!!
While Kellerman and Wiley don't stick a controller in her hands and force her to fight Kid Dynamite himself, they do drop Beadle inside for an amusing homage to Nintendo's classic boxing game. It's bizarre, but then again, so is Mike Tyson's Punch-Out!!
As of this writing, Mayweather is listed as a 2:1 favorite versus Pacquiao. Those aren't terrible odds, but Pacquiao might have better luck taking on Tyson's NES doppelganger. After all, somebody beat him blindfolded not too long ago.
Jack Wedge was a man on a mission. During last year's Awesome Games Done Quick marathon, he watched "Sinister1" attempt to complete Mike Tyson's Punch-Out!! while blindfolded. Sadly, after beating the game's first 13 characters, "Sinister1" was TKOed by Tyson. But his performance inspired Wedge to make his own blindfolded run at Iron Mike and the champ was a bit less invincible this time.
That's right, it's all in the video above, but Wedge went 14-0 against the cast of Mike Tyson's Punch-Out!! and emerged victorious with a decision against Tyson. Just beating Tyson at all is a huge accomplishment for most gamers, but doing it while blindfolded? I am just without speech.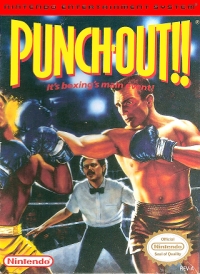 This week's Nintendo Download is going to knock you out! Between Punch-Out!! Featuring Mr. Dream on the 3DS eShop and The King of Fighters '97 on the Wii Virtual Console, the brawling just doesn't stop. Do you see three of them? Hit the one in the middle!
Also available this week is PopCap-tastic puzzle game Zuma's Revenge (on the DSi Shop) and Fun! Fun! Minigolf Touch! (on the 3DS eShop).
More details on all of these games can be found right here:
Punch-Out!! Featuring Mr. Dream (3DS eShop) – Play as young boxer Little Mac and battle the big guys of the World Video Boxing Association. Take them on one by one, from Glass Joe all the way to the WVBA Champion himself.
The King of Fighters '97 (Wii Virtual Console) – The King of Fighters '97 is the fourth game in The King of Fighters series, once again allowing players to combat opponents with popular characters from games such as Fatal Fury, Ikari Warriors, Psycho Soldier and Art of Fighting.
Zuma's Revenge (DSi Shop) – An irresistible force has taken our fearless frog to a newly evolved world of Zuma ruled by evil tiki bosses. Fire stone spheres to destroy the deadly stream of balls in this ball-blasting challenge.
Fun! Fun! Minigolf Touch! (3DS eShop) – Play minigolf with your Mii character and master new cups and trick-shot challenges in beautiful environments. The perfect touch-screen controls make for a fun and rewarding putting experience.