All Articles:
Monster Hunter 4

The San Diego Comic-Con kicks off this weekend and Capcom plans to be in attendance with playable demos of several upcoming games at their booth.
The publisher will give players the chance to try out Resident Evil 0, a remastered version of the franchise's origin story; Mega Man Legacy Collection, a remastered collection of the Blue Bomber's 8-bit history; and Street Fighter V, the next entry in the seminal fighting series. Kiosks for a few currently available titles will also line the Capcom booth including Resident Evil Revelations 2, Devil May Cry 4: Special Edition, and Monster Hunter 4 Ultimate.
Capcom will also host a pair of panels this weekend, including their semi-annual "World of Capcom" panel, which will include an overview of the publisher's upcoming game schedule. In addition to updates on Street Fighter V and Resident Evil 0, fans should be on the lookout for "exclusive first-looks, reveals, and special surprises."
Panel: Street Fighter V
Thursday, July 9 at 11:45 AM – 12:45 PM (Room 6BCF)
Capcom's Street Fighter experts will share the latest news on Street Fighter V, which will include a special guest appearance from Yoshinori Ono (Executive Producer, Street Fighter franchise). Learn how you can earn big money and everlasting fame by competing in the Capcom Pro Tour culminating in the Capcom Cup Finals later this year. Plus, get a first look at all the must-have Street Fighter licensed goods in store for the rest of the year.

Panel: World of Capcom
Thursday, July 9 at 5:00 PM – 6:00 PM (Room 7AB)
The Capcom team will share the latest updates on all the new and upcoming Capcom games including Street Fighter V, Resident Evil 0 and more, plus sneak peeks at all the latest Capcom merchandise and licensing products coming your way soon. There will also be some exclusive first-looks and reveals just for SDCC.
Finally, Capcom will erect a portable version of their Capcom Store, which will be packed the Capcom-iest merchandise around including two differnt light-up Ryu statues, a Street Fighter-branded PS3/PS4 fight stick, Monster Hunter clothing and pillows, and a Mega Man mini-helmet collection. Capcom's Comic-Con store will give fans the chance to pre-order a life-size Mega Man helmet with working LED lights. And in case you were wondering, yes, you can wear it. Be sure to visit the Capcom-Unity blog for a few pictures of the Mega Man helmet in action.
Posted in

3DS, News, PC, PS3, PS4, Xbox 360, Xbox One
Tagged

Comic-Con 2015, Devil May Cry 4, Mega Man Legacy Collection, Monster Hunter 4, Resident Evil 0, Resident Evil Revelations 2, Street Fighter V
Are you tweaking because you haven't had you fix of dragon slaying lately? You already conquered the red and blue dragons in Demon's Souls, and you're salivating at Skyrim trailers? Well, here is a little bit of the recently announced Monster Hunter 4 for the 3DS to whet you appetite.
All I have to say is run Forrest… RUN!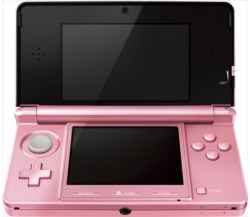 Nintendo's 3DS Conference is over and while it was short on details, it was long on game announcements. All told, more than 20 titles were revealed including the next numbered game in the Monster Hunter series, Monster Hunter 4. Obviously, the Monster Hunter series is a much bigger deal in Japan than it is in the US, but it's a major "get" for Nintendo all the same.
Nintendo had a few games of their own to announce at the show including an all-new Fire Emblem game, Mario Tennis 3DS and Culdcept 3DS (developed by Omiya Soft), all due next year.
In addition to a slew of new titles for the hardcore gamer, Nintendo revealed a new focus on "female gamers" for the 3DS with the reveal of the Misty Pink system seen to your left. The new color scheme will be available in Japan in October. This push for the female demographic will also include new Friend Collection and Style Savvy games in 2012.
In a bit of bad news, Kid Icarus: Uprising won't make it out this year. Pit's return will be released in 2012 instead.
Hit the jump for a complete list of everything Nintendo showed at their 3DS Conference, complete with tentative Japanese release dates. For some of these titles, an American release is a sure thing (or already announced). While for others, we'll just have to hope for the best. Here we go. (more…)