All Articles:
Monster Hunter Portable 3rd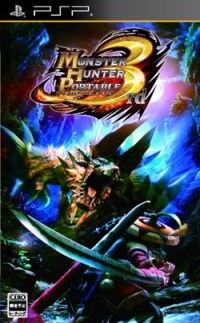 When we made our 11 Predictions For E3 11, we speculated that Hideo Kojima would finally announce the PS3/PSP hybrid game that he's been talking about for a while now. Instead, it looks like Sony has beat him to the punch with the announcement of the PSP Remaster series.
Initially scheduled for release in Japan, titles in the PSP Remaster series will be released for the PS3 on a Blu-ray disc packed with special features. While specific special features will be decided on a game-by-game basis, Sony expects to include new add-on content and stereoscopic 3D support in many of the PSP re-releases. The PS3 versions will also use the same save data as their PSP brethren, so it'll be possible to start a game at home on your PS3, transfer the save to your PSP, and then pick up right where you left off on the portable. Too awesome!
The first game available in the PSP Remaster series will be Capcom's Monster Hunter Portable 3rd, which will be released on the PS3 as Monster Hunter Portable 3rd HD Version. The upscaled PS3 version will include "gorgeous and vibrant" high definition graphics perfect for large-screened TVs. However, no release date has been announced.
More titles in the PSP Remaster series will be announced soon and hopefully we'll learn more about Sony's North American plans for the games at this year's E3 Expo.