All Articles:
Morning Star
Mobile developer Industrial Toys, which was co-founded by Halo Executive Producer Alex Seropian, has announced their "ambitious" first title, Morning Star.
In Morning Star, players will take on the role of a soldier aboard the Joplin, a research ship that has just received the first confirmed communication from an alien civilization. After exploring a strange alien artifact, these aliens transport the Joplin across space "to take part in an epic war that is not their own."
Industrial Toys has recruited science fiction author John Scalzi to write Morning Star's story and they're striving to create a unique Unreal Engine-powered first person shooter experience on the iOS. To that end, they've removed the standard "virtual stick" control scheme for something specifically built for a mobile platform from the ground up.
"With Morning Star, we're looking to change expectations for what kind of experience core gamers get from their mobile devices," said Seropian. "We're breaking new ground on everything from the visuals to the story to the ongoing support we'll provide in the way of content, events and player involvement. It's gonna be nuts."
Morning Star is currently scheduled for a Spring 2013 release.

"The innovation is all on mobile," claims Bungie co-founder Alex Seropian. Of course, the creator of the Halo franchise would say that, as his new studio, Industrial Toys, is focused on mobile platforms. The new company is attempting to bring a hardcore gaming experience to your phone and/or tablet with the help of Unreal Engine 3 and new thinking on the control interface for these devices. Yet for all the innovation, their first effort will be a sci-fi themed FPS… just like Seropian's biggest hit.
The unnamed project, which is being written by sci-fi author John Scalzi, is gearing up to offer gamers a world on their phone that is as expansive as World of Warcraft, and are focusing on two things that Seropian feels is missing from current mobile games: unique controls and fully integrated community.
"The whole design paradigm about designing for dual sticks is all about creating a software interface for hardware that makes it feel like you have more control and have better skill curves, That's all about getting closer to how a mouse works. There's no sense to emulate a relative control scheme, like a controller… We have been designing a control scheme that's all about putting our controls in the game space, as opposed to the screen space."
As well as these thoughts on the interface, the company is trying to envelop its social features and functionality into the very mechanics of the game, rather than the default option utilised by most mobile games of creating a separate community space on a linked website.
Industrial Toys plans to officially announce their first game soon, possibly even as early as later this month.
[Source: Joystiq]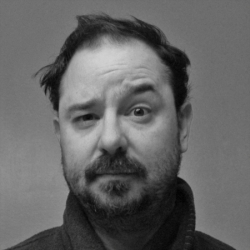 Your hero and mine, John Scalzi, has revealed that he's working on his first video game with mobile developer Industrial Toys.
Details are still scant, but Scalzi is the world-renowned author the Old Man's War series, Fuzzy Nation, The God Engines, and the upcoming Redshirts. So naturally, he's working on the storyline for this untitled game as well "other things." The video game world is a natural fit for the author as he's an unabashed fan of first person shooters and uses video game themes in a lot of his work (for example, The God Engines is built on a world that is just ripe for an RPG conversion).
Industrial Toys is a new team, but they've dropped a few hints on what their Scalzi collaboration could entail in the latest edition of their online newsletter. First of all, their motto appears to be "mobile games for core gamers," so don't expect any birds or words or fruit. There will also be guns. Hmm, I guess that's it. Helpful bunch, ain't they?
However, it was also revealed Scalzi won't be done dabbling in this world after he creates it. Maybe that means a book, who knows? But this is from the above-mentioned newsletter:
Welcome Hugo-Award-winning science fiction author, John Scalzi. […] Cuz next, he'll be turning his high-powered imagination on the storyline of our first game, and it won't just manifest itself IN the game.