All Articles:
Mugen Souls Z

This is the week your PlayStation 4 has been waiting for. OK, maybe it's just the week that my (hypothetical) PlayStation 4 has been waiting for. Either way, there are two very cool PS4 games available for purchase through the PlayStation Store as of today.
Supergiant's Transistor is a sci-fi action RPG and the followup to their blockbuster breakthrough, Bastion. If you'd rather blast mecha-enhanced Nazis in the face with a bazooka, you may want to check out Wolfenstein: The New Order. The latest entry in the venerable FPS franchise is the debut project from MachineGames. And from the looks of it, they're going to be around for a long time.
But if you're a PS3 owner, don't worry, there's plenty more for you this week, including your own version of Wolfenstein: The New Order. However, fans of quirky Japanese RPGs will be most satisfied with this week's PS3 slate as NIS America released Mugen Souls Z, Square Enix released Drakengard 3, and Atlus re-released Shin Megami Tensei: Digital Devil Saga.
More information about all of these games and more (including a quintet of import PS1 Classics) can be found after the break. And a complete rundown of this week's new game add-ons can be found at the PlayStation Blog. (more…)

In Wolfenstein: The New Order, the Germans managed to win World War II through a combination of mechs and mutants. Now it's up to William "B.J." Blazkowicz to turn the tide and make this alternate 1960 a very Nazi-unfriendly place. Wolfenstein: The New Order was developed by MachineGames and will be available for almost every current platform including the PC, PS3, PS4, Xbox 360, and Xbox One.
PS3-owning RPG fans will find a pair of interesting new games on store shelves next week as well. Square Enix will bring Drakengard 3 to Sony's system while NIS America will release Mugen Souls Z.
Finally, a few re-releases round out next week's batch of new games. First up, Grasshopper's Killer Is Dead will make its way to the PC as Killer Is Dead: Nightmare Edition. Also next week, Nordic Games will re-release a few of the games they picked up from the THQ auction including the Darksiders Collection on the PC, PS3, and Xbox 360; the Red Faction Collection for the PS3; and Red Faction Complete for the PC.
A complete list of next week's new releases can be found after the break. (more…)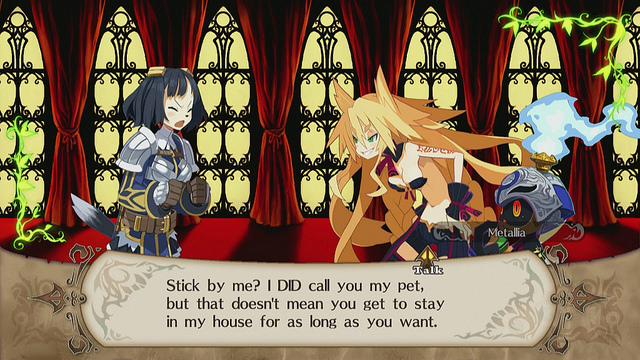 NIS America announced their 2014 release schedule last week, and there's plenty for all you doods out there! President Souhei Niikawa came out with a Prinny hat on and thanked the press for their support. He went on to say that NIS is currently working on a game for the PlayStation 4, and that the full details would come out at the Tokyo Game Show later this year. After that, NIS showed trailers showcasing NISA's upcoming projects…
Disgaea 4: A Promise Revisited, for the Vita, is a portable remake of the PS3 RPG.
Danganronpa 2: Goodbye Despair, also for the Vita, is a sequel to the recently released school-set RPG.
Demon Gaze, a first-person RPG for the Vita.
Hyperdimension Neptunia Producing Perfection, an "idol simulation" based on the popular RPG series based on personalities from the game industry.
Battle Princess of Arcadias is a side-scrolling brawler for the PS3.
Fairy Fencer F is a turn-based RPG from Compile Heart for the PS3.
Mugen Souls Z is another RPG from Compile Heart for the PS3.
The Witch and the Hundred Knight is an action RPG that will be available for the PS3 on March 25.
As always, it's a huge list of quirky games, each with their own niche following.
For full details on all of these games, check out the PlayStation Blog. Or, if you just want to see the latest screenshots, check out a Flickr gallery set up by Sony.