All Articles:
Natsume Championship Wrestling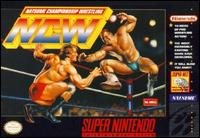 Back before every wrestling game had to have a WWE (or WCW or ECW or TNA) license to be successful, Natsume released Natsume Championship Wrestling during the Super NES-era and wrestling fans everywhere seemed to enjoy it. With WWE All-Stars scheduled for release next week, this new addition to the Virtual Console might be a good warm-up. It's joined this week by the WiiWare release Arcade Essentials, "a collection of five classic arcade games."
The DSiWare Shop will also receive two new titles this week: Shapo, a balancing puzzle game; and G.G. Series: D-Tank, a shooting game where players control a tank.
More information on all four games can be found after the break. (more…)