All Articles:
NBA Jam: On Fire Edition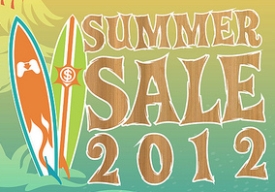 Is the massive heat wave that's engulfing most of the country also burning a hole in your wallet? If you're a PS3 owner, Sony has a solution to your problem: The 2012 PSN Summer Sale.
Beginning today and running through next Monday, July 9, the PSN Summer Sale offers up some sweet discounts on 11 PSN titles. PlayStation Plus subscribers get 50% off each title while regular PSN users get a still awesome 30% off.
Here's the full list of Summer Sale titles:
Closure
Sale Price: $10.49
PlayStation Plus Price: $7.34

Crysis
Sale Price: $13.99
PlayStation Plus Price: $9.79

Gotham City Impostors
Sale Price: $10.49
PlayStation Plus Price: $7.34

The House of the Dead III
Sale Price: $4.89
PlayStation Plus Price: $3.42

InFamous: Festival of Blood
Sale Price: $6.99
PlayStation Plus Price: $4.89

Jurassic Park: The Game
Sale Price: $13.99
PlayStation Plus Price: $9.79

Killzone 3 Multiplayer
Sale Price: $10.49
PlayStation Plus Price: $7.34

NBA Jam: On Fire Edition
Sale Price: $10.49
PlayStation Plus Price: $7.34

Real Steel
Sale Price: $6.99
PlayStation Plus Price: $4.89

Shadow of the Colossus
Sale Price: $13.99
PlayStation Plus Price: $9.79

Worms: Ultimate Mayhem
Sale Price: $10.49
PlayStation Plus Price: $7.34