All Articles:
Nutjitsu
Ninja squirrels! Yes, ninja squirrels, star in today's Xbox Live Game Store update. My dog will be so mad…
Those ninja squirrels are the stars of Nutjitsu, Ninjabee's overhead nut-stealing game that was originally released for the PC last year. The game, which is the second ID@Xbox release on the Xbox One, will outfit the squirrels with "smoke bombs, ninja speed, shadow clones, freeze bombs, and flame cloaks" in their quest to steal nuts from foxes. Oh yeah, my dog will be very mad to hear that.
Over on the Xbox 360, Spiders has brought their action RPG, Bound By Flame, to the Games on Demand service. Who doesn't love wizards that can control fire?
In case you're unfamiliar with Nutjitsu or Bound By Flame, more information on both games is available after the break. (more…)
Phil Spencer, the Head of Microsoft Studios, mentioned on Twitter that the first two ID@Xbox games will be Nutjitsu (see the launch trailer above) and a game in the Worms series (most likely the recently announced Worms: Battleground). Nutjitsu is already available on Windows Phone; however, there's not much known about the Worms game.
ID@Xbox is Microsoft's self-publishing program, a smart move on their part to try to catch some of the indie game market. According to IGN, the first ID@Xbox games (including Nutjitsu and the Worms game) are set to come out in March.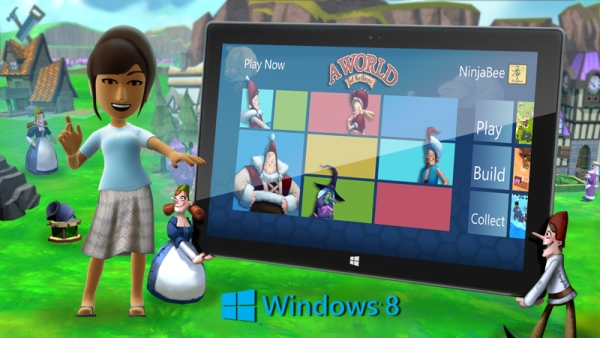 A few days after announcing that Windows 8 and Wii U versions of A World of Keflings, NinjaBee has confirmed that both versions of the world builder will be available to play on the PAX East show floor this weekend. The developer also plans to let gamers get their hands on Nutjitsu, their next original game.
If the idea of playing an unreleased game doesn't get you excited, how about receiving a free game after you play the unreleased one? While supplies last, NinjaBee will give away a free copy of the PC version of A Kingdom For Keflings to anyway who tries out Nutjitsu or A World of Keflings.
The developer will also be holding a Nutjitsu high score challenge (two winners a day will receive 1600 Microsoft Points) and a fully-stocked merchandise booth.