All Articles:
Old School Role-Playing Game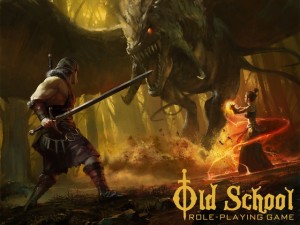 I respect his contributions to gaming (he co-created Doom, after all), but John Romero will never be able to live down his infamous ad for Daikatana. Now, Romero is back, and along with his former id Software cohort Tom Hall and Wizardy developer Brenda Braithwaite, he's going to take Kickstarter by storm. Suck it down! (Sorry).
Those three legends of game development lead Loot Drop, a studio that is hard at work on Old School Role-Playing Game, a… wait for it… old school role-playing game. Like many indie developers nowadays, Loot Drop has turned to Kickstarter to fund their new project.
The project is seeking $1 million, but the stretch goals are where the real action is. If the project reaches $1.9 million, Loot Drop will develop two old school RPGs. One will be lead by Hall, while the other will be shepherded by Braithwaite. Oh, and the two games will be linked as "the endings in one game affect the beginnings in another."
Wow, did John Romero just make me his… huh… I think he did!