All Articles:
Owlboy

It's Thursday, and Nintendo has offered up yet another hefty eShop update for the Switch.
This coming Tuesday, February 13, Switch owners will be able to download Owlboy, a side-scrolling platformer from D-Pad Studio. The Longest Five Minutes, a new RPG from NIS America, will also be available on the same day.
Both of those games rely on retro aesthetics to pull in players, and Square Enix will use a similar trick in its next game for the Switch. Dragon Quest Builders, a Minecraft-like experience based on the first game in the RPG series, will be available to download for the Switch beginning tomorrow. In addition to the main game, Dragon Quest Builders on the Switch will also include a variety of exclusive content.
Finally, 3DS owners will be able to download Radiant Historia: Perfect Chronology early next week. Atlus originally released Radiant Historia for the DS in 2011, and Perfect Chronology is a re-release that includes new story content, upgraded graphics, and "new ways to experience the adventure."
You can learn more about all of this week's additions to the Nintendo eShop after the break. (more…)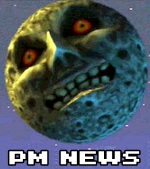 If you're a fan of side-scrolling platformers, you'll be delighted to know that Rive and Owlboy will soon make their way to new platforms.
You can learn more about the new destinations for both games after the break. (more…)