All Articles:
Phoenix Wright: Ace Attorney Trilogy

Do you object to hearing about this week's Nintendo Download? I wouldn't, because Capcom has added the Phoenix Wright: Ace Attorney Trilogy collection to the 3DS eShop. The wild courtroom antics of Phoenix Wright will be joined on the 3DS eShop by Xeodrifter, a Metroidvania-style game from Moon Chronicles developer Renegade Kid.
In other eShop release news this week, Activision is opening up their vault once again and dropping a ton of older 3DS and Wii U games onto Nintendo's digital storefront. Angry Birds Trilogy (3DS and Wii U), Angry Birds Star Wars (3DS and Wii U), Wipeout 2 (3DS), and Transformers: Dark of the Moon (3DS) are all available to download now.
More details on all of these games (and a few other new releases) can be found after the break. (more…)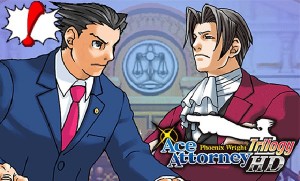 Capcom announced its awesome lineup for E3 2014, and the list is pretty awesome. They'll have Dead Rising 3 for PC; Monster Hunter Freedom Unite on iOS; Phoenix Wright: Ace Attorney Trilogy for the 3DS; Ultra Street Fighter IV for PC, PlayStation 3, and Xbox 360; and Monster Hunter 4 Ultimate for the 3DS. You can probably tell what I'm most excited for by which image I chose!
Capcom will also be showing off Capcom Pro Tour, which is referred to as "the premier league destination for competitive fighting games." The yearlong tournament circuit will lead up to the Capcom Cup, which will have 16 players facing off against one another.
For the full press release of Capcom's E3 offerings, hit the jump. (more…)