All Articles:
Pikmin 2

With E3 less than 48 hours away, it's understandable if this week's new releases haven't registered with you yet. And game publishers are doing their best to keep most new releases away from store shelves while the industry indulges in a little spectacle over "what's next." But a few big titles will soon land on store shelves:
For example, there's Namco Bandai's gravity-defying shooter Inversion for the PS3 and Xbox 360. A PC version will materialize later this year.
There's also a new version of Pikmin 2 for the Wii complete with Wii Remote/Nunchuk controls.
Finally, a tie-in game based on Madagascar 3 will stampede onto five platforms (3DS, DS, PS3, Wii, Xbox 360) and Katy Perry continues her transformation into a video game character with The Sims 3: Katy Perry Sweet Treats on the PC.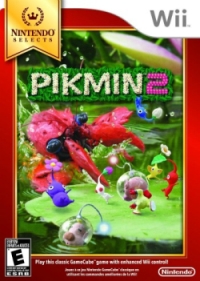 Nintendo has announced that Pikmin 2 will finally make its way to the Wii on June 10, more than three years after the "New Play Control" version was released in Japan, Australia, and Europe.
Instead of carrying the "New Play Control" banner that the other GameCube re-releases were saddled with, Pikmin 2 will be released as part of the Nintendo Selects line, complete with a $19.99 budget price.
Nintendo plans to add three more titles to their Nintendo Selects line on June 10 alongside Pikmin 2. Mario Power Tennis (another GameCube re-release), Donkey Kong Country Returns, and Super Smash Bros. Brawl will all be given new maroon packaging and a price cut.
Donkey Kong Country Returns and Super Smash Bros. Brawl will be priced at $29.99, while Mario Power Tennis will match Pikmin 2's $19.99 pricetag.