All Articles:
Pokemon Dream Radar

The DS still has one big game (OK, technically two) left in it as Nintendo plans to release Pokemon Black 2 and Pokemon White 2 this Fall. Today, the publisher confirmed that the games will be available in stores on October 7.
Nintendo also announced they'll be adding Pokemon Dream Radar, an augmented reality game where Pokemon invade your house, to the 3DS eShop on the same day. Several hard-to-find Pokemon caught in Pokemon Dream Radar can even be transferred to Pokemon Black 2/White 2.
"Fans will want to count the days until October 7, when they'll not only get to play the successor to one of the biggest Pokemon adventures ever, but also expand their Pokemon experience to the Nintendo 3DS with Pokemon Dream Radar," said Scott Moffitt, Nintendo of America's Executive Vice President of Sales & Marketing. "No matter whether people are playing on Nintendo DS or Nintendo 3DS, they'll be getting an incredible Pokemon experience that expands upon the beloved Pokemon Black Version and Pokemon White Version games."
It's Pokemadness!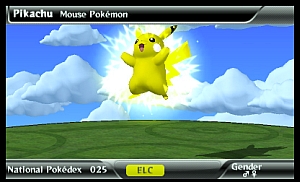 In an effort to help enhance people's experience when playing Pokémon Black Version 2 or Pokémon White Version 2 on the 3DS, which was developed for the DS family of systems, and can only be played in 2D, Nintendo has announced two companion titles that can be downloaded from the 3DS eShop this Autumn.
Pokémon Dream Radar allows players to discover and catch hidden Pokémon using the Nintendo 3DS camera, motion control, and augmented reality technology. Pokémon caught in this way can be transferred into Pokémon Black Version 2 and Pokémon White Version 2. Pokémon Dream Radar includes some hard to get Pokémon, so downloading this title can help you build your roster.
Pokédex 3D Pro includes detailed information about all of the Pokémon featured in the history of the series, tools for sorting, comparison, and ranking, and details on what abilities each Pokémon can learn and how it evolves. All Pokémon are unlocked from the start, and you can take photos of Pokémon in the real world using the 3DS camera.
For more information about any of these games, visit the official Pokémon website.