All Articles:
Pro Jumper! Guilty Gear Tangent!?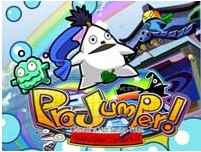 Nintendo's weekly update of their download services includes a bunch of quirky titles today.
On the DSi Shop there's Pro Jumper! Guilty Gear Tangent!?, which is platformer spun off from the Guilty Gear series of fighting, and Stratego: Next Edition, a portable version of perhaps the greatest board game ever. Also available on the DSi Shop is Delbo, a Bust-A-Move-like puzzle game.
All of this week's DSiWare offerings can also be downloaded from the 3DS eShop, which receives one exclusive of its own: the Game Boy classic Tennis.
On the WiiWare side of things there's The Mystery of Whiterock Castle, a hidden objects game.
More information on all of these titles can be found after the break. (more…)