All Articles:
Psychonauts 2
After amassing more than 20,000 backers, Double Fine's crowdfunding campaign for Psychonauts 2 reached its $3.3 million goal yesterday on Fig. Unlike Kickstarter, Fig allows backers to invest in projects and eventually see a return on their investment once the game is released. At this moment, more than half of Psychonauts 2's funding ($1.7 million) has been provided by investors.
"We're so grateful to our backers for giving us this chance to continue the story of Raz and the Psychonauts. Knowing that they will be able to participate as investors in the game makes the whole thing feel more fair and more rewarding," said Tim Schafer, the President and CEO of Double Fine Productions.
The Psychonauts 2 crowdfunding campaign will wrap up on Tuesday, and then begins the long process of actually developing the game. As of now, Double Fine is planning to release Psychonauts 2 sometime in Fall 2018 for the PC, PS4, and Xbox One.
After years of teasing, Tim Schafer and Double Fine Productions are finally ready to announce that development has begun on Psychonauts 2… but wait, there's a catch.
Like Broken Age and Massive Chalice, Double Fine will partially fund the creation of Psychonauts 2 through a crowdfunding campaign. This time, the development house has teamed up with Fig in an attempt to raise $3.3. million for the game. In addition to the standard crowdfunding reward tiers, backers will also have the opportunity to earn a piece of Psychonauts 2's profits if they sign up as an Investor through Fig (and if the campaign is successful, of course). Finally, Double Fine has contracted with an external partner to raise the more than $10 million they expect to need for a proper sequel to Psychonauts.
Schafer is quite literally getting the band back together for Psychonauts 2, as multiple members of the original team (including co-writer Erik Wolpaw, artists Peter Chan, Scott Campbell, and Nathan Stapley, composer Peter McConnell, voice actors Richard Horvitz (Raz) and Nicki Rapp (Lili), and voice director Khris Brown) have returned to Double Fine for the sequel. And what a sequel it could be:
In Psychonauts 2, Raz will realize his dreams and visit the Psychonauts Headquarters as a fully established agent. But when he gets there he finds it's not the perfect place he expected, and he quickly realizes that the Psychonauts need him, more than he needs them.

Psychonauts 2 will feature a new hub world inside Psychonauts HQ. You'll access new mental worlds as Raz peeks inside the minds of a host of new characters who need his help to combat their inner demons and unravel their deep-seated emotional issues. Raz will hone his secret agent PSI-abilities—and learn new ones too—using them to solve mysteries and uncover evil plots.
If all goes well (and Double Fine has already raised almost a $1 million after in less than a day), Psychonauts 2 will be released for the PC, PS4, and Xbox One sometime in 2018.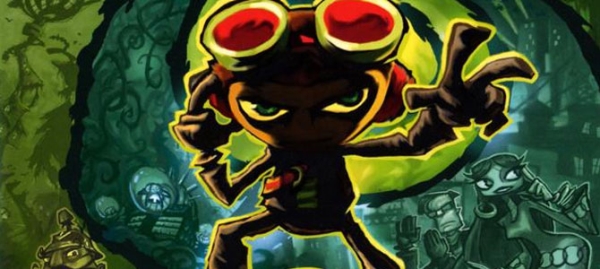 Markus "notch" Persson wants to change the video game industry. His first creation, Minecraft, became a worldwide sensation while in beta. It's since won a truckload of awards and made notch a very rich man.
So what's he going to do with all the money? For starters, he's going to offer some of it to Double Fine developer Tim Schafer to make Psychonauts 2. Here's what notch posted on Twitter this morning:
@TimOfLegend Let's make Psychonauts 2 happen.
Psychonauts, a platformer set at a Summer camp for kids with telekinesis, was released in 2005 to rave reviews. However, it sold horribly and any plans for a sequel (the game ended on a cliffhanger) have been on hold ever since.
Is notch serious? (He says he is in another tweet.) Will Schafer take him up on it? (He's said in the past that he wants to do a Psychonauts sequel.) Hopefully we'll find out soon. Maybe even on Twitter.