All Articles:
Psychonauts
Prepare to return to long-forgotten worlds in today's PlayStation Store update.
Electronic Arts and DICE have resurrected the city of Glass for Faith to freerun once more. In Mirror's Edge: Catalyst (PS4), players will learn about the origin behind Faith's rebellious nature while leaping between skyscrapers to stop an oppressive government.
It hasn't been gone quite as long, but Telltale Games is already set to return to Minecraft: Story Mode with the unexpected sixth episode, A Portal to Mystery, which is now available to download on the PS4 and PS3.
Speaking of games that'll be available on both of Sony's home consoles, we have Odin Sphere: Leifthrasir from Atlus and Vanillaware. Also available to download for the Vita, Odin Sphere: Leifthrasir is the remake of a side-scrolling RPG originally released for the PS2 in 2007.
Image & Form is a big fan of the side-scrolling aesthetic, and the developer will release its side-scrolling strategy game, SteamWorld Heist, for the PS4 and Vita this week. The space saga, which is Cross-Buy on the PS4 and Vita, originally made its debut on the 3DS last year.
Finally this week, Double Fine will add the original Psychonauts to the PS2-On-PS4 program. While progress on the crowdfunded sequel continues, players will get a chance to re-experience all the zaniness of Whispering Rock Psychic Summer Camp in Raz's original adventure.
More information on all of these games (and a few other new releases) can be found after the break. And, as always, a complete rundown of this week's new add-ons and discounts is available at the PlayStation Blog. (more…)

With the sequel now fully-funded through Fig, Double Fine is also working to reacquaint the gaming public with the original Psychonauts. So the developer stopped by the PlayStation Blog today to announce that the PS2 classic will be available to download for the PS4 this Spring:
Psychonauts follows the story of a young psychic named Razputin in his quest to join an elite group of international psychic secret agents, the Psychonauts! He runs away from the circus and breaks into their secret training facility, Whispering Rock Psychic Summer Camp.

As he begins his training by psychically delving inside the consciousnesses of his tutors and those around him, he realizes all is not as it seems, and soon embarks upon a psychic odyssey through a variety of levels set inside the minds of misfits, monsters, and madmen!
Like other PS2-On-PS4 releases, the unique visual style of Psychonauts will be uprendered to 1080p on the PS4. The game will also include support for Trophies, Remote Play, Live Broadcast, Share Play, and Activity Feeds.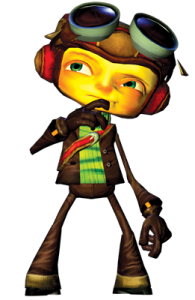 The exclusive rights to publish Psychonauts, the first game from Tim Schaeffer's Double Fine Productions, have now reverted to the developer. Although this resulted in a celebratory OMG Tweet from Senior Gameplay Programmer Anna Kipnis, the studio still has a few more deals to work out before they can resume working on the IP. Schaeffer told Gamasutra, "[A]fter that's all squared away, we will have some fun stuff to announce! (And no, it's not Psychonauts 2.)"
Released in 2005 for PC, PlayStation 2, and Xbox, Psychonauts is revered for its unique story and sense of humor that has since become synonymous with Double Fine. We'll be sure to keep you posted on what those announcements end up being.