All Articles:
Puddle

A handful of new games were added to Nintendo's download services today:
The tilt-controlled puzzler Puddle is now available on the Wii U eShop.
Ikachan, the latest game from Nicalis, has been added to the 3DS eShop.
As has the NES classic Ice Climber.
The Wii Virtual Console is still kicking as well with the addition of Metal Slug 4.
And on Monday, the next Fire Emblem game, Fire Emblem: Awakening, will be available to download from the 3DS eShop.
More information on all of this week's new releases can be found after the break. (more…)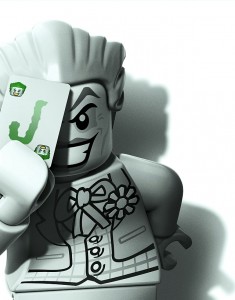 We've got Lego superheroes, water puzzles, and a whole mess of zombies in this week's PlayStation Store update. Here's a look at the PS3 Full Games and PSN titles available this week. The PS Vita and PS Mini games can be found after the break.
PS3 Full Games
Lego Batman 2: DC Super Heroes ($49.99)
The Dynamic Duo of Batman and Robin join other famous super heroes from the DC Universe including Superman, Wonder Woman and Green Lantern to save Gotham City from destruction at the hands of the notorious villains Lex Luthor and the Joker. Collect 50 DC Comics characters, flex your new super abilities, and master new suits and gadgets. Players can also explore Gotham City and unlock a variety of cool vehicles.
Resident Evil: Operation Raccoon City ($49.99)
Operation Raccoon City is a unique and brutal three way shooter set in the terrifying world of Resident Evil. Play as Umbrella Security Service, sent in to the city to cover up Umbrella crimes. Zombies and bio-organic weapons flood the city but a bigger threat to your mission exists: a government Spec Ops unit has been sent in to hunt you down and capture the evidence you're fighting to destroy.
PSN Games
Malicious ($9.99)
Take control of the Spirit Vessel and battle waves of brutal fighters and colossal enemies to rid the world of the evil force of Malicious. Gain new weapons, build your powers and perform devastating combo attacks as the final showdown between good and evil draws near.
Worms 2: Armageddon Game of the Year ($27.49)
Worms 2: Armageddon, the turn-based-strategy blast-a-thon, returns in a new Game of the Year Edition. Packed with features set to satisfy both new and older generation Worms players alike, this online and offline destruction-fest is set to go global with its unique brand of easy to learn, but hard to master gameplay. Included is the feature-packed standard version of the game and all of the great additional content! (more…)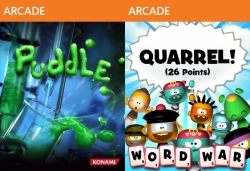 This week's two new additions to the Xbox Live Arcade may sound familiar, but they also provide a unique take on their subject matter.
Puddle, which is available to download for 800 Microsoft Points ($10), won the Student Showcase prize at the 2010 Independent Gaming Festival and mixes the liquidity of Mercury with your average platformer:
What began as a student project that won a Student Showcase prize at Independent Gaming Festival at GDC 2010 is now a full-fledged downloadable game experience like nothing you've ever played before. Guide puddles of fluid through a variety of novel, themed environments (the human body, a garden, a foundry, and more). But to do so, you must tilt the environment, balancing each fluid's unique properties with the environmental factors of gravity, friction, and each course's obstacles.
Meanwhile, Quarrel, which carries a pricetag of 400 Microsoft Points ($5), crosses the word creation of Scrabble with the virtual warfare of Risk:
Quarrel is the most novel word game ever made. But don't just take our word for it – grab it now and enter a universe where WORDS (11 points) literally speak louder than ACTIONS (8 points). Use a cool combination of word power and strategic cunning to crush your opponents and reign supreme. Come settle your differences with wordplay rather than swordplay; make verbal not chemical weapons; load up with letters not bullets and use chatter to batter your enemies into submission and rule the world. Compete to use your troops to make the highest-scoring word from the letters given then capture territories and conquer islands in this wholly original virtual board game.