All Articles:
Quarrel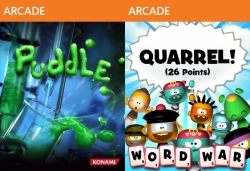 This week's two new additions to the Xbox Live Arcade may sound familiar, but they also provide a unique take on their subject matter.
Puddle, which is available to download for 800 Microsoft Points ($10), won the Student Showcase prize at the 2010 Independent Gaming Festival and mixes the liquidity of Mercury with your average platformer:
What began as a student project that won a Student Showcase prize at Independent Gaming Festival at GDC 2010 is now a full-fledged downloadable game experience like nothing you've ever played before. Guide puddles of fluid through a variety of novel, themed environments (the human body, a garden, a foundry, and more). But to do so, you must tilt the environment, balancing each fluid's unique properties with the environmental factors of gravity, friction, and each course's obstacles.
Meanwhile, Quarrel, which carries a pricetag of 400 Microsoft Points ($5), crosses the word creation of Scrabble with the virtual warfare of Risk:
Quarrel is the most novel word game ever made. But don't just take our word for it – grab it now and enter a universe where WORDS (11 points) literally speak louder than ACTIONS (8 points). Use a cool combination of word power and strategic cunning to crush your opponents and reign supreme. Come settle your differences with wordplay rather than swordplay; make verbal not chemical weapons; load up with letters not bullets and use chatter to batter your enemies into submission and rule the world. Compete to use your troops to make the highest-scoring word from the letters given then capture territories and conquer islands in this wholly original virtual board game.