All Articles:
Radiant Silvergun

For shoot 'em up fans (or shmups if you prefer), no developer is held in higher esteem than Treasure. The Japanese geniuses behind Ikaruga, Sin & Punishment, Gradius V, and others have been producing hit after hit since breaking away from Konami in the early 90s. Most of Treasure's games would go on to be released in America, but one of their earliest successes, Radiant Silvergun, never made it across the Pacific… that is, until now. For years, dedicated fans flocked to eBay and spent several hundred dollars to obtain a copy of the Sega Saturn game. The rest of us continued to wait for the port we knew was coming, and now that day has arrived, courtesy of the Xbox Live Arcade. (more…)

Are you ready to experience some high-flying action with today's Xbox Live Arcade update? Then obviously you've come to this news article to learn more about Konami's Red Bull X-Fighters, a motocross racer that's now available for 800 Microsoft Points ($10).
Or… you've come to learn about the biggest game of September (suck it Gears of War 3)… Radiant Silvergun! Developed by Treasure, Radiant Silvergun was originally released for the Sega Saturn back in 1998 and never made it to America as the console had already crashed and burned on this side of the Pacific. The game serves as a prequel to Treasure's beloved Ikaruga and the XBLA remake actually includes an Ikaruga-inspired mode. Radiant Silvergun is available to download for 1200 Microsoft Points ($15), a much better price than the $100+ the Saturn disc used to command on eBay.
Also available this week is Sega's vehicular combat game Renegade Ops. It too has been priced at 1200 Microsoft Points ($15).
More details on all three games can be found at Xbox.com (Radiant Silvergun, Red Bull X-Fighters, Renegade Ops).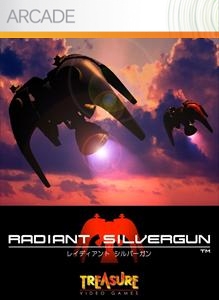 Andriasang passes along word that Treasure's Radiant Silvergun will be available to download from the Xbox Live Arcade on September 14. It's currently unknown if this release date applies only to Japan or the whole wide world.
The shooter was originally released in arcades and on the Sega Saturn in 1998, but neither were never released outside of Japan. As such, the game is a highly sought after collector's item. That'll change after it becomes available for 1200 Microsoft Points ($15) on the XBLA.
Radiant Silvergun on the XBLA will include updated graphics, two-player online co-op and a special "Ikaruga Mode" for those who have also downloaded Silvergun's spiritual sequel.