All Articles:
Ratchet & Clank: Full Frontal Assault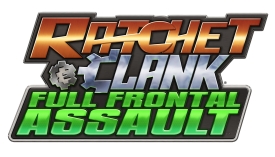 We've got a slightly subdued PlayStation Store update this week as only seven games were added to the service.
Leading things off is the latest Ratchet & Clank game, Ratchet & Clank: Full Frontal Assault. You know, I think using a double entendre as the title of a platformer that is basically for kids will never get old.
Also available this week is a trio Sega-published fighting games from the 1990s. All three games were developed by the company's AM2 internal studio and they all should conjure up some good memories: Fighting Vipers, Sonic the Fighters, and Virtua Fighter 2.
Rounding out this week's new releases is Men In Black: Alien Crisis (just in time for Men In Black 3's Blu-ray/DVD debut), Ace Combat: Assault Horizon, and the PSP game Phineas and Ferb Across the 2nd Dimension.
More information on all of these games can be found after the break. And a complete list of this week's new game add-ons can be found at the PlayStation Blog. (more…)